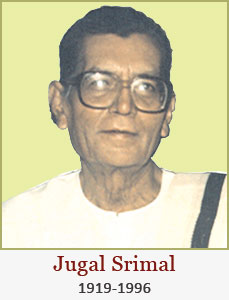 It was the dream of Jugal Srimal to do something for the children. He dreamt that the children of today have reached zenith of success in their young age and become asset to the mankind. His this feeling at last formed National Cultural Association in 1945. He had led a team of young enterprising youth who spread the branches of the Associations into multi faced projects of which the first was Nehru Children's Museum that was inaugurated in 1972 on the birthday of Pandit Jawahar Lal Nehru. Sri Srimal had in his mind to teach the children through the amusing activities like the Dolls and Toys, Epics of Ramayana and Mahabharata in Nehru Children's Museum, Toy Train in Rabindra Sarovar, Yearly Sit and Draw Art Competition and other promotional activities for the underprivileged children. The great soul went for heavenly abode in 1996. But his presence is felt through the projects he has launched for the children. His activities have been widely appreciated by the leading personalities from India and abroad. Whatever success, Nehru Children's Museum has achieved, it was owing to the great vision, missionary and zeal of Late Jugal Srimal, the Founder Director of the Organization.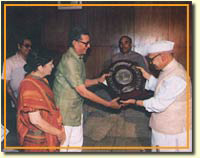 Here in the picture Sri Jugal Srimal, the Founder Director of Nehru Children's. Museum is seen receiving the best Child Organization Award from Sri. SD Sharma the then President of India.
Every year Excellence Award on the name of Jugal Srimal is given to the children in recognition to their merit in the streams of Education, Painting, Sports and Games. The founder and the leader is remembered through these awards of excellence. Here on the right, is the good wishes of Pandit Jawharlal Nehru, the then Prime Minister of India.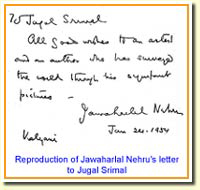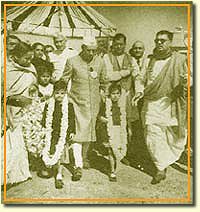 It was Pandit Nehru who visited one of the projects of the Association at Kalyani. He sent his heartiest appreciation to Jugal Srimal. Here in the picture, Chachaji is seen with his grandsons Rajiv and Sanjay along with the Founder Director Jugal Srimal and his spouse Arati Srimal who is now the Director of Nehru Children's Museum.
Pandit Nehru is seen on the left, walking in to lay the foundation stone of the children museum which was named after his name.
Dr. Rajendra Prasad, President of India is seen at the right, proceeding to inaugurate the 80th Birthday celebration of Dr. Bidhan Chandra Roy at Mahajati Sadan, Calcutta, escorted by Jugal Srimal (1961).